Travel Accessories Tested by an Airline Captain
Travel Accessories. You just bought a new travel accessory. You don't know if it will perform acceptably until you're out there, away from home, using it. If it fails or doesn't live up to your expectations, it's inconvenient, frustrating and could impact your trip. You may have wasted your money on a completely worthless gizmo.
Travel can be challenging. Information and knowledge will make your journey much easier. Minimize the surprises and maximize the enjoyment on your next trip with what you learn here. The more you know before you go, the smoother your travel will be. It is my desire to help make your travel experience turbulence free.
You can learn and benefit from years of travel experience.
Pilot Paul, a senior Captain with a major airline, is here to help you navigate. Knowledge and tips from a full traveling career will be yours.
Pilot Paul explains "I spend about half of my days traveling. This alone has made me an extremely experienced traveler. But I also spend countless hours doing market research on travel accessories.
How? I'm constantly searching for information and recommendations from other crew members as well as passengers. I'm always on the prowl for top quality, helpful, useful travel accessories. If I see someone using a certain travel accessory, I'll ask them how they like it, where they bought it, how much it was, and most importantly, "Was it a good value?"
Why am I so concerned about value?
To me, value is far more important than price.
You may not know this, but one common characteristic of pilots is that we're frugal (not cheap, as my wife might say). So how does being cheap (I mean frugal), align with searching for great value?
If a travel accessory is an excellent product and well made, it should last a long time. This will give you a longer period to enjoy its benefits. Even if it had a higher purchase price than similar travel accessory, the one that lasts longer is a better value. The cost per use or cost over time becomes much less.
The net result of all my market research is that I am able to stay up to date on a large variety of travel accessories, suggestions and tips. Everything you find here comes from that experience. Every travel accessory is Crew Tested and Crew Recommended. We're hard on our travel gear.
Now You Can Benefit From All This Collective Travel Experience
The purpose of this site is to pass along this information.
My hope is that what you read here will save you:
Time

Money

Unnecessary Aggravation
I want to make traveling fun for you again. Remember when going on a trip, a plane or train ride was thrilling and exciting? Now I greet the people boarding my flights and they seem tired, harried and worn out. I hope to help change that.
There enough factors that are out of our control when we travel that can make it more difficult: security, weather, traffic, mechanical problems, delays and cancellations. But there are some things that you can control:
What you do

What you know

What travel accessories you bring with you
My desire throughout this site is to help make you a relaxed, seasoned, savvy, well-informed, well-equipped traveler. This should allow you to have the best travel experience possible.
Travel Informed + Travel Well Equipped = Travel Wisely and Relaxed
What does it take for something to be recommended by Pilot Paul?
To make it on this site, something must be:
Proven. In most cases it is something I own and use myself. The only exceptions are travel items that other crew members or passengers have raved about.

Excellent Quality

Great Value

Priced Competitively

Guaranteed. I know that there is a degree of risk in purchasing anything online. To minimize this risk, I only refer to merchants who have excellent guarantee and return policies. These policies are highlighted by each link, and the full details are available from the vendor's sites. Of course each has their own policies. I have tried to find the best available. Some offer lifetime satisfaction guarantee, others 110% price guarantees, others a 1-year return policy. One luggage manufacturer gives lifetime free repairs, even for damage. How can you beat that?
The net result is that you should be able to find the best products from the best merchants here.
When I encounter people interested in aviation, I am frequently asked about my favorite things.
I have included many of my favorite things from travel accessories to destinations to planes.
This is your Captain speaking...
This site is growing continuously. I am very open to feedback and recommendations. I want this to be a useful resource for all visitors. Be sure to sign up for our FREE newsletter.
Please bookmark us, tell your friends, and come back frequently to see what is new.
Travel Informed + Travel Well Equipped = Travel Wisely and Relaxed
Now please sit back, relax, and enjoy the flight. You are now free to move about the site...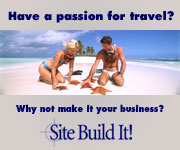 The Pilot Paul Travel Accessories Blog keeps you up-to-date with all additions and changes to the Pilot Paul Travel Accessories Web site and more.
A.C.T. energy drink is the absolute best energy drink available. In addition to costing less than the other leading energy drinks, A.C.T. is all-natural and has no caffeine!
These luggage ratings will help you learn how to find the best luggage for you with ease!
Article: An Airline Captain teaches you proven jet lag remedies and tips for avoiding jet lag symptoms. Make the most of your overseas trip.
Article: Why noise cancelling headphones are not just a travel accessory, they are a travel necessity.
What everybody should know about how a white noise machine lets you sleep in a noisy hotel.
Generate travel income. Here's a great way to turn your vacation into income.
Find the best travel accessories possible. Pilot Paul, an International Airline Captain, tells you his top picks for time-tested travel accessories and more.
Article: Is travel comfort important to you? Do you have trouble sleeping and resting while traveling? Here are proven tips,
Travel pillows reviewed. Airlines have removed the pillows and blankets. It's time to bring your own travel pillow. Find out which are best for you.
Sleep Mask reviews by a professional traveler.
Imagine having portable black out curtains in every hotel room. Sleep better in total darkenss with black out curtains. Blackout Curtains to Go is the perfect solution.
The 1st Class Sleeper makes you more comfortable in any seat.
Your travel, especially family travel, is an important time for making memories. Learn why this
Would you like to protect your credit card while traveling? Here's how!
Important information and tips for your travel health.
Looking for the best disposable towel? Lightload Towels are the best disposable towels that I've found.
Contact Pilot Paul, Your Travel Accessories Resource
Useful links to help our visitors.
Subscribe to our FREE newsletter, "This Is Your Captain Speaking..."
Free Internet marketing and e-commerce tools to help ensure your online success.
These proven sleep tips help me sleep well in any noisy or strange hotel. You can use these sleep tips too.
With a contour travel pillow, you can always have the perfect pillow with you.
Travel articles to help you discover insider's secrets and travel tips from. Make the most of your travels with this information.
Now you can have a wonderful free travel guide for any state.
Do you travel in airport friendly shoes or do your travel shoes set off the security metal detectors? Tired of removing your shoes for security? We have found airport safe shoes that you can keep ON
Do you want a great hotel discount? Using Quikbook is a great way to find quality, cheap hotel.
Need to find the best travel discounts? Here's proven advice from an expert to save money with discount travel.
Are you looking for the best GPS review? An airline captain helps you rate gps units as he gives his best portable gps reviews.
SiteSearch
How Pilot Paul began online. Why needed a web site and you do too. Site Build It or SBI is the only answer
Proven Advice To Find Time Share Rentals Inexpensively And Easily -- By An Expert
Would you like to share your knowledge about travel accessories? Great, find out how you can submit your story or tip here.